If you spend any time on the internet, I think you can agree with me when I say: Cats are everywhere.  They might not be man's best friend, but the world wide web sure seems to love them. On blogs, forums, social media sites – they have made their way to almost every corner of the internet – and they don't seem to be going away anytime soon.
Like any other animal, cats have always had a online presence. But the launch and viral spread of sites like LOLcat and I Can Has Cheezberger? just sent the online community into a feline frenzy. Pictures of adorable cats with horrible grammar, who doesn't love that?
Here are five of the internet's most famous cats:
Grumpy Cat, known for her permanently grumpy-face;
Henri, Le Chat Noir, the world's first feline existentialist philosopher;
Lil Bub, the adorable magic space cat;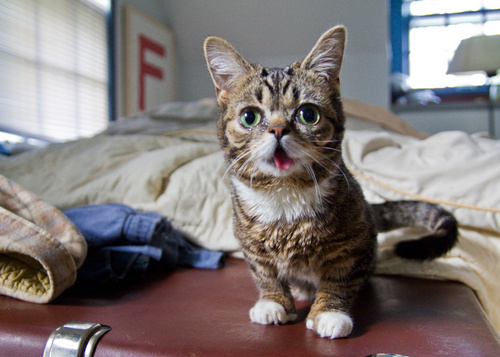 Colonel Meow, world's angriest cat (rest peacefully in kitty heaven);
Maru, the box-loving cat from Japan;
Of course other animals have their fair share of fame on the internet too, but nothing can compare to the millions of hits, views, likes, shares, and retweets cat videos and pictures receive. Why do you guys think the internet loves cats so much? Is it because they're cute? Is is their aloofness and general "I-don't-care" nature?
Or is it all just a cat conspiracy?
"The reason for the continued and overwhelming popularity of cats on the internet is because the Internet is actually an enormous social experiment in which we humans are merely unwitting pawns." – Matt Smith